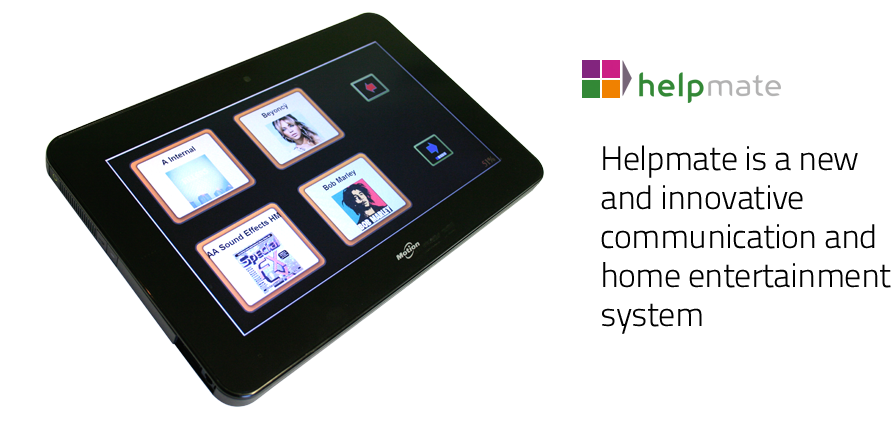 ---
£1775.00
Helpmate
Helpmate has been designed and developed for young children or adults with a severe and limiting physical and/or cognitive disability. The system is simple, intuitive and straightforward for both the user and their family members and carers. The team at Assistive Control are passionate about providing truly independent access to AT and users can connect with Helpmate using the touchscreen, simple switches and eye gaze. Assistive Control are also expert in providing solutions for clients that have particularly complex needs and requirements and can develop customised AT solutions. Please give us a call on 01886 884188 or email enquiries@assistivecontrol.com if you would like to find out more about our customised options.
Find Out More and Buy
Helpmate is a uniquely simple Assistive Technology system. Assistive Control has developed an easy to use system where the user is only ever presented with 4 onscreen choices, configured as 4 very large onscreen options and 2 control options.
Helpmate offers the user the opportunity to control all the functions of their AT system independently and efficiently. It has been designed to be simple, straightforward and easy to operate for the user and their carers.
No programming required – just switch on and go!
User Benefits Include
Simple, straightforward, user friendly AT
Simple choice-making
Large cells for easy access
Choices supported by a visual and auditory prompt
Assistive Control's 'MediaChecker' application makes adding new media quick and simple for therapists, carers and families
Helpmate offers a choice of communication symbols
Use Helpmate to listen to music, read books, look at picture books, browse photographs and watch videos
Personal alarm and video messaging feature
Connect with Helpmate by using the touchscreen, simple switches or eye gaze
TV and home controls available
Fully height and tilt adjustable desk and floor stands available to use Helpmate with ease and in comfort.
Keyguards also available.
---
How to Use Helpmate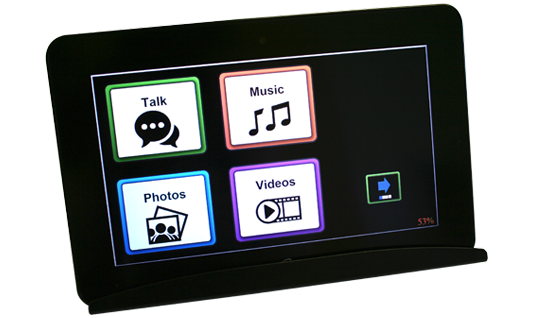 All the features of Helpmate can be accessed by the user with just 2 control cells
The user will only be presented with four option cells at any time
All the functions of Helpmate can be selected by the user from the six onscreen cells
As the user explores the screen each selection is reinforced with a visual and auditory prompt
The user has plenty of time to look at the screen and explore the options available as nothing happens until the 'Go' cell is selected
Helpmate is simple and intuitive to use, just switch on and go!
All complexity, drop down menus, and small icons have been hidden from view encouraging accurate choice making and efficient, independent access.
---
Specification
Sleek, lightweight and portable design
10" multi touch screen
Long battery life
Dimensions: 276 x 179 x 15mm
Robust design – developed to cope with a demanding environment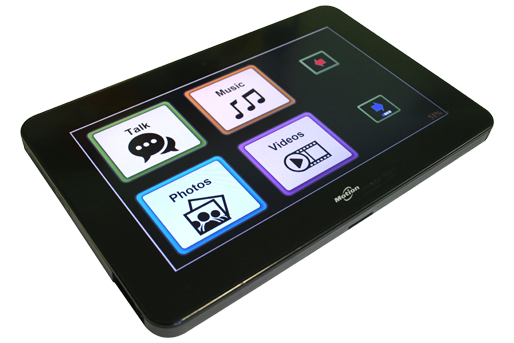 Please call Assistive Control on 01886 884188 to speak to a product specialist for more information or to arrange a demonstration.